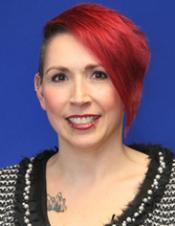 When I first imagined myself teaching college students, I assumed I would impart a lot of knowledge about my area of specialization—English—and maybe even inspire some students to fall in love with literature and writing. I certainly do that, but mostly what I do is listen, encourage, support, mentor, empower. I also help students manage their time, study more effectively, and make connections between the skills they're learning like critical thinking, analysis and effective communication and their daily lives.   
In return, my students enrich my life by teaching me about their individual hobbies and passions. I have learned about subjects I would never have sought to learn about on my own such as tractors, dirt bike racing, auto and aviation mechanics, Santeria, anime, art history, philosophy and much more. Mostly, my students are constant reminders of the importance of compassion and empathy. They come from all walks of life and have experienced all manner of successes and tragedies. As a Lincoln Land community College alumna who faced my own set of struggles in my journey to earn my degrees and achieve my personal and professional goals, I can relate to many of the challenges my students face, and I get to help them overcome those obstacles the way my community college professors helped me.  
Teaching as an adjunct (part-time) faculty member at LLCC is a great way to make some extra money, but that's not why most of us do it. As a long-time area resident and a parent, I teach part-time to give back to my community, to have a positive impact on the lives of students, and to be part of those students' journeys toward realizing their dreams. Most of my part-time colleagues would say the same. If you can imagine yourself positively influencing the lives of students, teaching part-time at LLCC may be for you. 
As LLCC continues to transition back to normal operations after the pandemic, we are eager to welcome new part-time faculty to our team to help us continue to transform the lives of members of our community through education. Part-time faculty come to us from many different backgrounds. Some follow traditional paths that typically lead to teaching opportunities. Some do other things in their lives and careers before they become teachers. Some have a lot of experience in the classroom and others have practiced their area of expertise in different settings. Whether you have been training to be a teacher for years or you have never seriously thought about it before now, LLCC is eager to consider you as a new member of our team.
For those who might not have thought about teaching before, LLCC will be hosting a series of informational events at our campuses. These are opportunities for you to get to know people from the different academic departments as well as learn about our classes and what it is like to teach our students. We will be hosting an event on our main campus on Wednesday, Nov. 2 from 6-8 p.m. We will host additional events at our Outreach Centers in Jacksonville, Litchfield and Taylorville on Wednesday, Nov. 9. For more information about these events, visit the part-time faculty information fairs webpage.