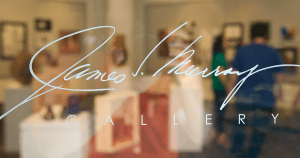 The Philip and Mary Kathryn Trutter Museum has been in existence since 2004. In 2021, the Trutter Museum was transformed with the goal to maintain the strong name, identity and presence of the Philip and Mary Kathryn Trutter Museum, while uniting the Trutter collection with the space that is currently the James Murray Gallery in Menard Hall on LLCC's main campus. This museum is a tribute to individuals who shared a great love for travel and education. We continue to celebrate a love for learning and the arts in a new location. By reimagining the Trutter Museum, students will have greater access to the collection and it will eventually be incorporated in art history courses. Moving the Trutter Museum to a better, high-traffic area on campus meets the goal to share the collection with students and others who may never get to travel but can travel the world through the Trutter Museum.
Melding the Trutter Museum with the James Murray Gallery reinvigorates and creates excitement about the arts on our campus and in the communities we serve. Phil Trutter was a student of James Murray. What an incredible connection to share with our students, faculty, staff and community.
Getting to the museum
The Trutter Museum/James Murray Gallery is located on the second floor of Menard Hall on LLCC's Springfield campus. View directions to campus.