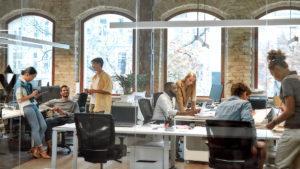 Purpose
To be completed near the end of an academic program, the internship experience "bridges the gap" between the academic environment and future work environment. LLCC student interns are more confident, gain valuable workplace knowledge and acquire credentials that lead to an information technology career. Employers also view an internship experience favorably when hiring. After 225 hours of work experience, an LLCC student intern will earn three college credit hours.
An internship will:
help students make informed career choices by seeking potential places of employment, practicing resume and cover letter writing, obtaining references and interviewing.
provide students with an opportunity to apply what was learned during coursework (theory, application, skill development, professionalism) to a field experience with hands-on work.
broaden a student's understanding of organizational management, technical requirements, communication techniques and decision-making processes.
allow an intern to assume responsibilities of an employee working independently with minimal supervision.
allow an employer to benefit from a student intern who has gained cutting-edge technical knowledge and skills.
provide the intern with valid work experience to include in their work history and resume.
---
Requirements
All interns must:
be seeking a degree in computer science at LLCC, which includes the computer information systems associate in arts or the computer systems associate in science.
have completed at least 30 total credit hours of course work at LLCC, with 20 of those credit hours in computer science program courses.
be in good academic standing and not on academic probation for one full semester preceding the internship.
sign a liability waiver and/or take out insurance. Note: The organization has the right to refuse an intern, and payment to the intern is not required.
if required by the employer, submit to an organization's background investigation and physical as required by the organization on all regularly employed persons.
be at least 18 years old, and receive written approval from a parent or guardian if younger than 21 years old.
register for the LLCC internship course with the approval of an LLCC computer science instructor.
complete a minimum of 225 hours of work experience in order to earn three credit hours. The intern's work schedule will be determined by the student and the employer.
---
Preparation
An internship candidate will work with the Office of Work-Based Learning a semester before academic program completion to help connect students with businesses. For example, an intern should look during the fall semester for an internship starting the following spring. To start this process, complete all of the steps below.
Fill out the LLCC Career Internship Interest Form. After completion, this information will be sent to Brenda Elliott, Director, Work-Based Learning, who will contact you.
Obtain an unofficial transcript from LoggerCentral. After logging in, click on the "course catalog" option. In the upper left corner, click on the "academics" link. From that menu, click on "unofficial transcript" to download and print a PDF copy.
Evaluate your transcript to confirm that 30 total credit hours at LLCC have been completed, 20 credit hours of required computer science program courses have been completed, and that your academic status is favorable (meaning you're not on academic probation for one full semester preceding the internship).
Review your cover letter and resume with a representative from Career Services to assure they're current and professional. Career Services can also provide advice about interviewing and additional job-seeking skills.
Bring your transcript, cover letter and resume to your first meeting with the Director of Work-Based Learning.
---
Employers interested in offering Computer Science internship opportunities to LLCC Computer Science students should contact Brenda Elliott, director, Work-Based Learning, at Brenda.Elliott@llcc.edu or 217-786-2326.