The Career Coach Job Board is an easy-to-use and free online job board designed with LLCC students and alumni in mind. Employers can post job openings, reach the LLCC community and screen candidates. 
Please note that LLCC does not guarantee hiring. The job board provides access and opportunities to apply for jobs posted by local employers.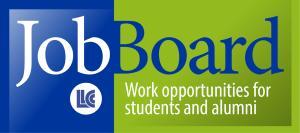 The Job Board can be found by accessing Career Coach. Once there, click Work Opportunities, and use the search bar and the drop-down arrow within Job Type to narrow your search as needed.
Many employers will expect you to submit a resume within the Career Coach system. Other employers may include alternative application instructions within their posting. If they do, pay close attention to those instructions.
Begin by creating a Career Coach profile (if you have not created one in the past). Click on Sign-Up in the drop-down menu (upper right corner).
Create your profile using your LLCC email and Lincoln Land Community College as your current school.
Go to Resume Builder where you can upload your resume.
Special note to LLCC students and recent grads: You will see a Resume Builder tool to create your resume. Instead of using this tool, we invite you to work with Career Services and learn to create a resume employers really want to see — one that highlights your unique talents and skills. Schedule your resume appointment.
To upload your resume, click the plus sign under Uploaded Resumes icon and follow the directions. The site allows up to six resume uploads, which helps you target openings with customized resumes.
Once you have chosen the correct resume, click Submit.
For employers
Career Coach is a convenient and free site where employers post job or internship opportunities, reach the LLCC community and screen candidates.
Creating a profile and posting opportunities
To get started, select Employer Sign-Up from the drop-down menu at top right. Complete your profile and click save. Then click Request Approval. When your profile is approved, you will receive an email from the Career Coach team.
Once your employer profile is approved, it is easy to post your open positions. Within your posting, you can indicate how you would like to receive applications:
Job seekers can upload resumes directly within the site. This provides a convenient place for you to review resumes from applicants who are using the LLCC Career Coach Job Board.
If you prefer a different application process, you can indicate within the text of your job post how students should apply.
Employers are encouraged to take advantage of the Career Coach categories. Choose categories by typing in keywords.
After you click Send for Approval, your submission will be reviewed. The job posting will appear on your dashboard as "Pending" until approved. When approved, you will receive an email, and the posting will be visible to job seekers.
Reviewing applicants
When an applicant has submitted a resume for a job posting, you will see a number under the Applicants title on your dashboard. Click the number to review. You will then be able to see applicant names and access submitted resumes.
Please keep notes of resumes as you review them. At this time, the system does not allow a way to indicate which resumes you have previously reviewed.
Editing posted opportunities
On your Employer Dashboard, you will be able to edit your posted opportunities, end a posted opportunity early or re-post the opportunity as you desire.