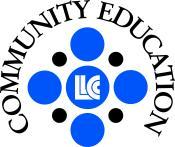 Registration for Community Education opportunities is on a first-come, first-served basis. Students are strongly encouraged to register early (at least one week in advance of class start date) to secure their seat as many classes fill quickly. Conversely, classes may be canceled due to insufficient enrollment so your early registration can make the difference. Fees must be paid at the time of registration. Spaces are not held prior to receipt of payment.
Ways to register
In person
Registrations for LLCC Community Education programs are taken by the LLCC Admission & Registration office, located in Menard Hall on the college's Springfield campus, or at any of the Outreach Centers (Beardstown, Jacksonville, Taylorville and Litchfield).
By phone
To register by phone, we ask that you pay for workshop registrations by credit card. We accept Discover, MasterCard, Visa or American Express. Call LLCC Admission & Registration at 217-786-2292 or toll-free at 800-727-4161, or contact the closest LLCC Outreach Center to you.