Model Illinois Government (MIG) - POS 165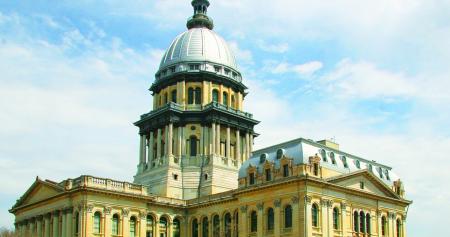 Students prepare for the annual Model Illinois Government (MIG) simulation held in the Illinois Senate and House chambers. MIG is a role playing simulation that builds upon student preparation in parliamentary procedure, bill analysis, policy research, drafting legislation and debate. Examples of roles are senator, representative, lobbyist, journalist, legislative staff, leadership roles and budget analyst. This class has intensive reading and writing elements. (3 lecture hours)
Prerequisite: POS 101 and permission of instructor.
To provide students with an hands on learning experience in a state and local context.
To introduce students to the practical complexities of state government.
To familiarize students with the history and development or American legislatures.
To expose students to the process of original research utilizing original source materials.
To provide students with the opportunity to conduct comparative in-depth research on policy enacted or proposed by other states.
To introduce students to formal debate and expression - both oral and written.
To promote critical thought via problem solving exercises and teamwork.
To provide an opportunity for students to interact with their peers from other institutions in an academic context.
Week 1   
Introduction and Roles.
Public Speaking exercises.
Begin legislation research
Overview of the Illinois legislature
Parliamentary procedure basics.
MEETING OF THE WHOLE at the Capitol
Week 2   
Public Speaking
Parliamentary procedure
Week 3  
Public Speaking
Parliamentary Procedure
Bill presentations.
Week 4   
Parliamentary Procedure
Bill Presentations
Simulated debate
Week 5 
Comparative Constitutions Project due.
Parliamentary Procedure
Simulated debate
Week 6   
Bill presentations, editing
Parliamentary Procedure
Simulated debate
Week 7    
Bill presentations, editing
Parliamentary procedure
Simulated debate
Week 8:    
Week 9:    
Week 10:  
Debriefing, pick up assignments
Upon successful completion of this course, students will be able to:
Demonstrate working knowledge of the history and development of state legislatures.
Demonstrate mastery of Robert Rules of Order.
Conduct original policy research and draft legislation.
Problem solve in real-world situations in small and larger group contexts.
Display in depth knowledge of at all legislation in the student's assigned committee or lobbyist role.
Show evidence of teamwork and team leadership.
Present complex information and policy proposals in written and oral format.
Participate in both large and small group simulations.