Model United Nations (MUN) - POS 164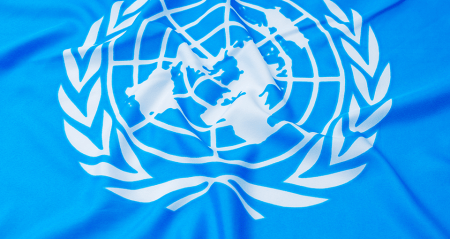 This course is based around preparation for and participation in the regionally, nationally and internationally recognized Model United Nations simulation. Students become part of the LLCC delegation and conduct in-depth research into the assigned country and specific topic area. On the basis of this research, they write detailed policy papers and participate in at least one major simulation where they present these proposals orally and participate in negotiations. This class has intensive reading and writing elements. (3 credit hours)
Prerequisite: POS 101 and permission of instructor
To provide students with an experiential learning experience in the global context.
To introduce students to the practical complexities of international governance.
To familiarize students with the history, development, institutions and offices of the UN.
To expose students to the process of original research utilizing original source materials.
To provide students with the opportunity to conduct in-depth research on a country other than the United States.
To introduce students to formal diplomatic procedures and expression — both oral and written.
To promote critical thought via problem solving exercises and teamwork.
To provide an opportunity for students to interact with their peers from other institutions in an academic context.
Week 1
Introduction (The MUN experience)
History and background of the UN
Committee assignments/organizational meeting details, details of the simulation, country intro
Week 2
Presentations on Turkish politics
Introduction to Turkish politics
Week 3
Resolution practice and mock committee
Procedure (exercises)
Procedure (practice/resolution drafting)
Week 4
Position papers (collective editing/drafting)
Presenting position papers to rest of class and exercises
Additional organizational meeting
Week 5
Compilation of resources and background coordinating and standardizing position papers
Resolution drafting practice
Week 6
Additional meeting
5 days -  MUN conference in St. Louis or New York
Week 7
Week 8
"Peacekeepers" video; why what you write matters
Challenges facing UN; diaries/papers due
Upon successful completion of this course, the student will be able to:
Evince a working knowledge of the history, development and institutions of the United Nations.
Display familiarity with the underlying principles of the UN as an organization and its relationship to nation states and other organs of international governance.
Demonstrate mastery of the Rules of Order governing the UN and simulations thereof.
Demonstrate a mastery of the rules and vocabulary of diplomatic exchanges — both written and oral.
Conduct original research in the area of United Nations Policy.
Problem solve in real-world situations in small and larger group contexts
Display in depth knowledge of at least three current policy areas confronting the United Nations General Assembly and/or Specialized Agencies.
Demonstrate a significant degree of knowledge in a broad spectrum of areas (including but not limited to History, Economy, Geography, Culture, Geostrategic and Environmental concerns, global relations and the current political system) of the assigned country.
Show evidence of teamwork and team leadership.
Present complex information and policy proposals in written and oral format.
Participate in both large and small group simulations.