Online proctoring with Proctorio
Lincoln Land Community College has licensed Proctorio, a remote proctoring service, to support academic integrity and to verify student identity during online testing. Proctorio works within a web browser to monitor online test takers for suspicious behavior. Proctorio is available to support all online classes as needed with no additional cost to students.
Proctorio is a secure monitoring platform that integrates with Canvas and only works within the Chrome web browser.
Proctorio authenticates the student's ID at the beginning of the exam to ensure that the person taking the exam has the correct user credentials.
Instructors control the level of security by setting their own preferences as to how the exam session will be monitored through an easy to use setup process.
After the exam, Proctorio provides a log of potentially suspicious behavior for the instructor to review. Only the instructor can see these logs.
Proctorio is a Chrome-browser plugin only. It will only have access to your Chrome profile, not your entire computer system, and is only active when an exam is taking place within Canvas. The extension is clearly marked in the browser when it is active. Furthermore, the Chrome extension can be manually disabled or removed at any time by the user. For a complete list of technical requirements please visit Proctorio Help.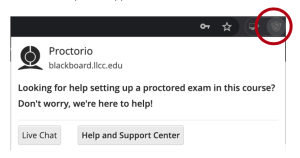 Proctorio's software is easy to use, but if there is an issue or you have a question, technical support is available 24/7/365 via chat for faculty and students. This support is available from within the Proctorio system. To access support, you can click on the plugin icon on the right side of the chrome browser address bar. This will give you the option of starting a live support chat or going to the Proctorio Help and Support Center.