College Now was created for high school juniors and seniors who want to either pursue a career track after high school or plan to transfer to a university.
Whether you are a student, parent or guardian, we are delighted you are considering College Now for high school students. In these challenging economic times, taking advantage of College Now opportunities close to home makes sense and enrolling at a two-year community college is a smart financial choice.
What is College Now?
Participation in College Now is a great way for students to be challenged in their learning and get a head start on their college education. Students may be pursuing degrees like pre-med, pre-pharmacy, pre-veterinary, pre-law, psychology, nursing, and many more. Students preparing to transfer are advised to refer directly to the official catalog of the college or university they plan to attend and meet that institution's requirements and recommendations for a selected area of concentration. Other transfer resources can be found online through iTransfer.
Afternoon classes
College Now evening classes are held during both the fall and spring semesters at LLCC-Litchfield and are available to high school juniors and seniors. The classes are generally Monday-Thursday from 1 to 3 p.m. Students usually enroll in two classes or six to eight credit hours.
Qualifications
Students accepted for enrollment in college-level classes must have appropriate academic qualifications, a high level of motivation, and adequate time to devote to studying a college-level class. The students must meet all college criteria and follow all college procedures for enrolling in the courses. Ultimately, students must receive approval from their high school counselor to attend LLCC's College Now program. High school counselors usually look for students who will have earned enough credits to graduate, have a good attendance record, and no behavioral problems.
Class attendance policy
Students are expected to attend class regularly, and shall notify their instructor(s) when they are unable to attend class. The instructor may establish class attendance as an achievement standard. (Board Policy 4.12)
Because LLCC views student participation as crucial to academic success, a student who has neither participated in a class nor communicated in some other way with the instructor during the first two weeks of class will be administratively withdrawn from such courses for non-attendance. This attendance verification period can be pro-rated for classes meeting over shorter terms. In such cases of administrative withdrawal, students are not entitled to a refund of tuition or fees. Those facing extenuating circumstances may go through the tuition refund appeals process.
It is the student's responsibility to obtain assignments and content missed when a class is not attended. When students are unable to attend class for an extended period, they shall notify the appropriate instructor(s). In cases where it creates an undue hardship on a student to contact all instructors, the director of LLCC-Litchfield or designee shall contact his/her instructors.
In case you are going to miss class due to illness, you must report your absence to your high school as well as Lincoln Land Community College. Your LLCC instructor will let you know their preferred method of contact. College Now students are expected to attend all meetings and will not be excused for extracurricular activities. College Now students must follow LLCC's academic calendar.
Grades
Instructors establish their own individual class grading systems, evaluation methods and class policies. These become official letter grades when reported by the instructor at the end of the semester. Letter grades promote meaningful evaluation of student achievement, inform students of academic progress, and assess student's readiness to advance.
It is important to understand that your grades will be generating an official college transcript which will become part of your permanent college record. Your performance in these classes may impact the following at Lincoln Land Community College: future federal financial aid including loans, admission criteria for special college programs, such as the Honors Program and future scholarships. As part of your permanent record, your performance in these courses may also affect your admission/enrollment and scholarship eligibility at other higher education institutions. Withdrawing from courses can have similar implications at LLCC or other higher education institutions.
Tuition and fees
Tuition and fees are based upon LLCC's rates. Tuition costs are reviewed each fall semester and are subject to change. Convenient payment plans are also available.
Course offerings
The following classes are part of the College Now program. Not all classes are offered every semester.
Students and parents or guardians are welcome to make an appointment for success coaching with Jessie Blackburn. Appointments can be made by calling 217-786-3401. Email questions to jessie.blackburn@llcc.edu.
Classes designed to transfer to a college or university after high school graduation are offered. These classes meet Illinois Articulation Initiative (IAI) guidelines. Here is a sampling of classes offered:
Computer Applications and Concepts
First Year Experience
History of Western Civilization I
Introduction to Humanities
Introduction to Psychology
Introduction to Sociology
General Biology
College Success Skills
Art Appreciation
Introduction to Film as Literature
History of Western Civilization II
Introduction to American Politics
Timeline
February/March 2023: Let your high school counselor know of your interest in College Now Program.
March/April/May 2023: Attend New Student Orientation.
July 2023: Tuition is due via payment in full or via payment plan.
August 2023 Purchase textbooks.
Seats are limited in the College Now program. If you think you are even possibly interested, please let your high school counselor know. There is no commitment until you register for classes.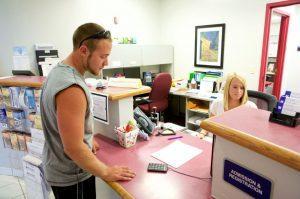 More information
Bookstore
Books can be purchased online and delivered to LLCC-Litchfield for no additional cost.
ID/library card
Students can obtain their student ID/library card at LLCC-Litchfield approximately two weeks after the beginning of classes. LLCC's library card can be used to order books online through LLCC's online book catalog.