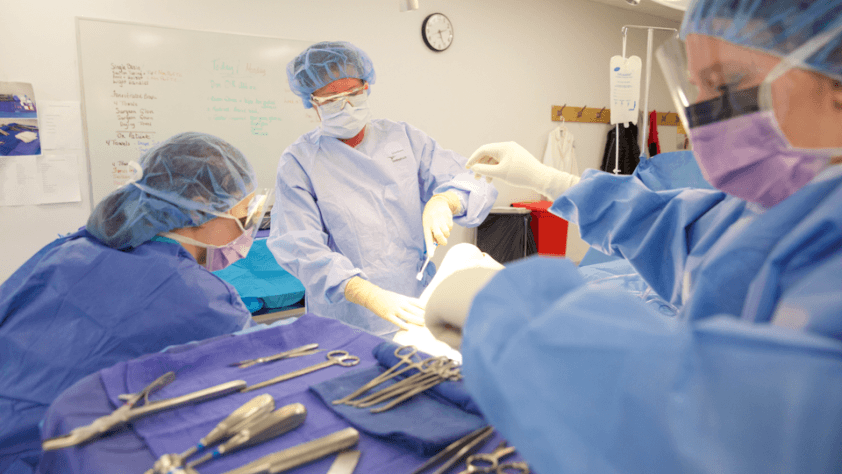 At a Glance
Key part of the operating team, assisting surgeons and preparing patients, equipment and the room.
Surgical technologists are members of the surgical team during medical operations. They help prepare the operating room, check and/or assemble equipment, assist the surgeon during the operation, transfer patients to their rooms and clean the operating room. At LLCC, surgical technology students get hands-on experience in an operating room lab. They are prepared with the skills needed to directly enter the workforce. Career options include certified surgical technologists in hospital operating rooms, delivery rooms, ambulatory care centers, physician offices and central sterilizing departments.
Learn more by viewing "Ready to scrub in: Surgical Tech" in LLCC's FORWARD magazine!
2020-2021 academic year
8/1/2020 – 7/31/2021
Graduation date: December 2019
# of students graduated: 5
# students took CST exam: 5
# students passed CST exam: 5
% students passed CST exam: 100%
2019-2020 academic year
8/1/2019 – 7/31/2020
Graduation date: December 2019
# of students graduated: 6
# students took CST exam: 6
# students passed CST exam: 6
% students passed CST exam: 100%
2018-2019 academic year
8/1/2018 – 7/31/2019
Graduation date: December 2018
# of students graduated: 4
# students took CST exam: 4
# students passed CST exam: 4
% students passed CST exam: 100%
2017-2018 academic year
8/1/2017 – 7/31/2018
Graduation date: December 2017
# of students graduated: 4
# students took CST exam: 4
# students passed CST exam: 4
% students passed CST exam: 100%
2016-2017 academic year
8/1/2016 – 7/31/2017
Graduation date: December 2016
# of students graduated: 6
# students took CST exam: 6
# students passed CST exam: 6
% students passed CST exam: 100%