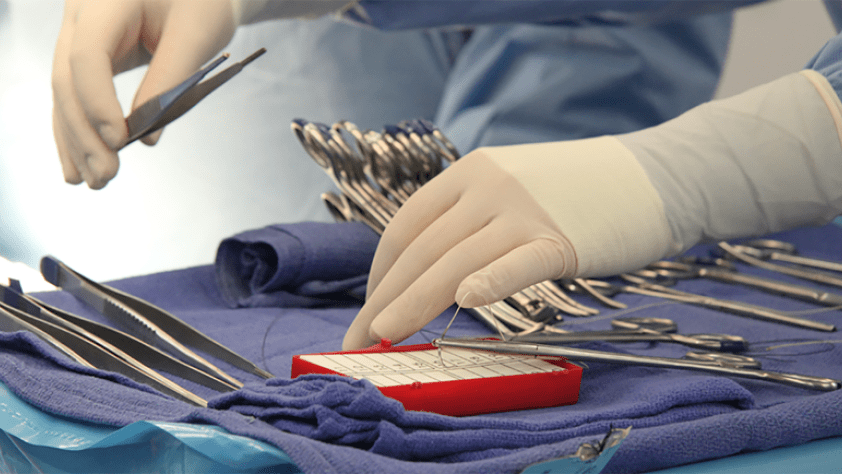 At a Glance
Ensuring sterile medical equipment for patient health and infection control.
In 16 weeks you can receive the needed training to sit for an exam to become a central sterile service technician, who plays a vital role in hospital and ambulatory surgery centers. For patient health and infection control, medical professionals need sterile and functioning surgical instruments. Central sterile service technicians are responsible for the decontamination, preparation, packaging, sterilization and storage, handling and distribution of reusable surgical instrumentation and sterile medical supplies. LLCC's program includes a combination of classroom instruction and laboratory experience. Classes are offered in fall and spring semesters.
Degrees & Certs
LLCC offers the following certificate program to successfully equip you for a career as a central sterile service technician. Upon successful completion of the program, students are eligible to sit for the Sterile Processing and Distribution Technician certification exam through the Certification Board for Sterile Processing and Distribution (CBSPD) or the Certified Registered Central Service Technician examination through the International Association of Healthcare Central Service Material Management (IAHCSMM). Learn more about the courses for this program:
Cost
The Central Sterile Technician program consists of two classes: HLT 109 and SGT 100.
For the 2023-2024 academic year (fall 2023, spring 2024 and summer 2024), HLT 109 has a standard tuition rate of $137 per credit hour for in-district residents. SGT 100 has a tuition rate of $274 per credit hour for in-district residents. Get more information on tuition and fees.
Estimated costs as of July 2023:
HLT 109 textbook: $100.00
SGT 100 textbook: $119.98
Total (estimated) book cost: $219.98
Paying for college
Learn more about cost of attendance.
There are ways to get help paying for college. Learn more about paying for college.
Free training opportunity
The Pipeline for the Advancement of the Healthcare Workforce (PATH) program provides free training and supports for occupations within the health care field. Learn more about PATH, including support services, programs and eligibility.
Getting Started
Explore available classes in LoggerCentral.
Ready to get started?
View registration requirements below.
Students must meet one of the following criteria:
Demonstrate proficiency of college level reading
Hold a degree at a bachelor's level or above
Have achieved grades of a C or better in a college-level English course (EGL 101, its equivalent or above) from any accredited college or university
Have earned an ACT score of 22 or higher in reading
Have earned an SAT score of 480 or higher in writing/reading