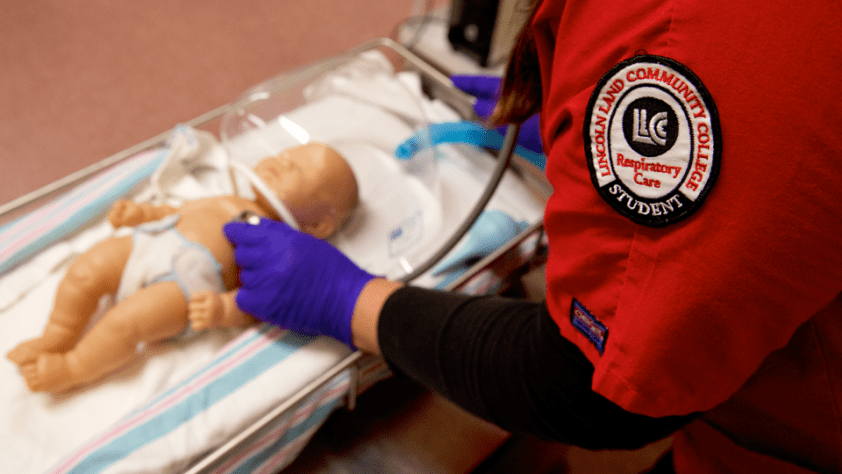 At a Glance
Assisting physicians in the prevention and treatment of respiratory system diseases and disorders
LLCC's 21-month program puts you on the path to an exciting career as a respiratory therapist, providing diagnostic and therapeutic care to patients of all ages. Bedside, in the emergency room or in an ambulance, respiratory therapy practitioners are vital members of the lifesaving team. With a nearly 100 percent job placement record, most graduates have job offers before completing the 21-month program. LLCC's program is located at HSHS St. John's Hospital, providing access to direct patient contact, hospital equipment and facilities. Program graduates have the skills to succeed in the workforce in hospitals, medical transport companies, home health, physicians' offices and sleep labs. Sixteen students are admitted each fall semester. The application deadline is the last Monday in July.
To prepare graduates with demonstrated competence in the cognitive (knowledge), psychomotor (skills), and affective (behavior) learning domains of respiratory care practice as performed by registered respiratory therapists (RRTs).
This program is accredited through the Commission on Accreditation for Respiratory Care (CoARC) program #200481. For inquiries about accreditation, contact CoARC at 817-283-2835 or visit the CoARC website.
CoARC accredits respiratory therapy education programs in the United States. To achieve this end, it utilizes an 'outcomes based' process. Programmatic outcomes are performance indicators that reflect the extent to which the educational goals of the program are achieved and by which program effectiveness is documented.
Current period three-year average 2019-2021
Retention – 89%
Job Placement – 93%
RRT Credentialing Success – 86%
Overall Employer Satisfaction – 100%
Overall Graduate Satisfaction – 100%
CoARC Outcomes for 2019-2021