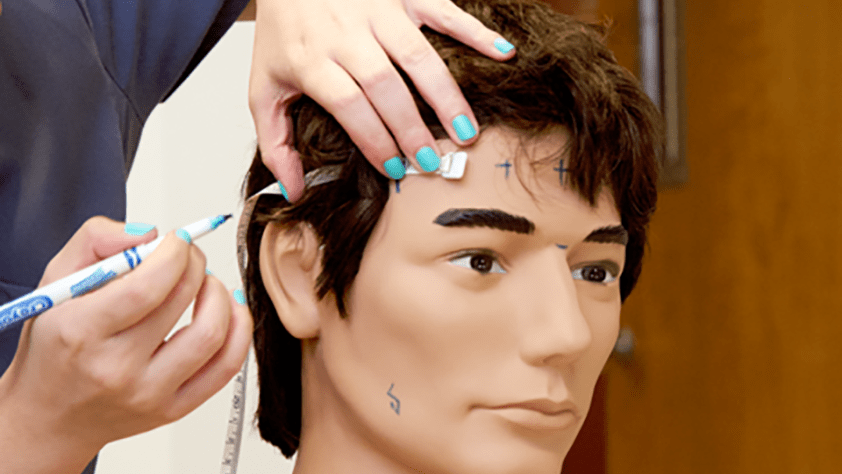 At a Glance
Recording and study of the electrical activity of the brain and nervous system pathways.
Are you interested in caring for patients, from infants to the elderly, and providing key information in diagnosing various brain disorders? LLCC's unique NDT program puts you on the path to a good-paying and rewarding career. With a nearly 100 percent job placement record, most graduates have job offers before completing the 21-month program. LLCC's program, one of just 23 in the country, is located at HSHS St. John's Hospital, which provides access to direct contact with patients, hospital equipment and facilities. Program graduates have the skills to succeed in the workforce as an ND technologist in a hospital lab, clinic, research facility and physicians' offices.
The neurodiagnostic technology program at Lincoln Land Community College is accredited by the Commission on Accreditation of Allied Health Education Programs upon the recommendation of the Committee on Accreditation for Education in Neurodiagnostic Technology.
Commission on Accreditation of Allied Health Education Programs
9355-113th St. N. #7709
Seminole, FL 33775
727-210-2350 ext. 104
Academic year: 8/2019-5/2021
Graduation Date: May 2021
#Students Enrolled: 9 • # Students Graduated: 8 • # Positive Placement: 7 (89%)
# Students took R. EEG T. exam: 6 • # Students passed exam: 6 (100%)
Academic year: 8/2018-5/2020
Graduation Date: May 2020
# Students Enrolled: 14 • # Students Graduated: 9 • # Positive Placement: 6 (67%)
# Students took R. EEG T. exam: 3 • # Students passed exam: 3 (100%)
Academic year: 8/2017-5/2019
Graduation Date: May 2019
# Students Enrolled: 8 • # Students Graduated: 6 • # Positive Placement: 6 (100%)
# Students took R. EEG T. exam: 6 • # Students passed exam: 6 (100%)