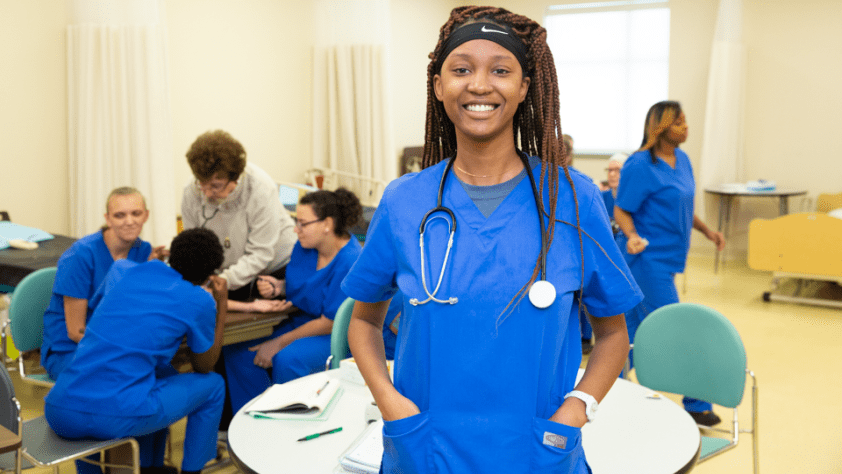 At a Glance
Certified nursing assistants (CNAs) are in great demand and can have a major impact on the care that patients receive. CNAs assist patients with basic health care needs or daily living activities and help them maintain their dignity during illness or injury. LLCC's basic nurse assistant program includes classroom, lab and clinical experience. Classes are held on the main campus in Springfield and at LLCC-Beardstown, LLCC-Jacksonville, LLCC-Litchfield and LLCC-Taylorville. Students who successfully complete the program are eligible to take the required Illinois Department of Public Health (IDPH) nurse aide competency exam. LLCC CNAs are employed in nursing homes, hospitals and home health settings.
Reading requirement
Students must meet one of the following criteria:
Reading placement score of 240 or higher
ACT reading score of 18 or higher
SAT Writing/Reading score of 477 or higher
High School GPA of 2.7 or higher
GED Reasoning Through Language Arts score of 175 or higher
Criminal background check
A fingerprint-based criminal background check is required by law for all nurse aide students and must be completed prior to registration. Students will need to complete the Health Care Worker Background Check Authorization and Disclosure form, which can be requested by emailing CNA.program@llcc.edu. The form must be completed legibly and in its entirety to be processed. Please include an email address or fax number to where you would like your fingerprint paperwork sent and return the completed form to one of the following:
Students who have previously completed a background check outside of LLCC, must complete a Health Care Worker Background Check Authorization and Disclosure form to grant LLCC permission to access previous background check information.
When the disclosure form is processed, students will be provided with a Livescan form to take to an approved vendor for fingerprinting. The student will be issued a receipt by the vendor that will need to be returned to LLCC utilizing one of the methods listed above.
Once the background check steps are completed and all required paperwork has been submitted, students will receive an email stating they have completed the background check requirement for the CNA course.
Due to clinical requirements, all CNA students must be fully vaccinated against COVID-19. Students who do not wish to vaccinate will not be eligible to complete the CNA program.