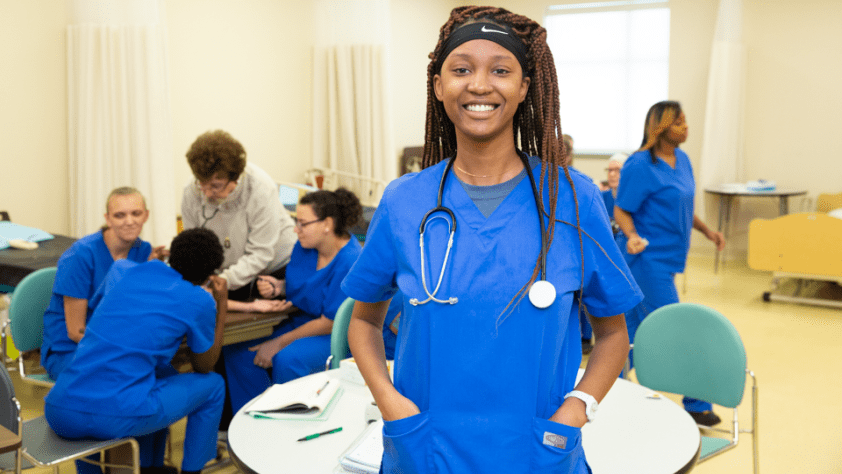 At a Glance
Certified nursing assistants (CNAs) are in great demand and can have a major impact on the care that patients receive. CNAs assist patients with basic health care needs or daily living activities and help them maintain their dignity during illness or injury. LLCC's basic nurse assistant program includes classroom, lab and clinical experience. Classes are held on the main campus in Springfield and at LLCC-Beardstown, LLCC-Jacksonville, LLCC-Litchfield and LLCC-Taylorville. Students who successfully complete the program are eligible to take the required Illinois Department of Public Health (IDPH) nurse aide competency exam. LLCC CNAs are employed in nursing homes, hospitals and home health settings.
Degrees & Certs
Learn more about the courses in the basic nurse assistant program. See registration requirements under the "Getting Started" tab. For students pursuing a nursing degree, this program is a prerequisite for LLCC's practical nurse and associate degree nursing programs.
Cost
For the 2023-2024 academic year (fall 2023, spring 2024 and summer 2024), basic nurse assistant (NAS) classes have an in-district rate of $137 per credit hour. Get more information on tuition and fees.
Books sold separately.
Paying for college
Learn more about cost of attendance.
There are ways to get help paying for college. Learn more about paying for college.
Free training opportunity
The Pipeline for the Advancement of the Healthcare Workforce (PATH) program provides free training and supports for occupations within the health care field. Learn more about PATH, including support services, programs and eligibility.
Start/Info Session
Information sessions will be held on the following dates in Montgomery Hall, Room 1142 on the LLCC-Springfield campus. 
Wednesday, March 22, 2023, 2-3 p.m.
Wednesday, April 19, 2023, 2-3 p.m.
Wednesday, May 10, 2023, 2-3 p.m.
Course offerings and availability may be found online via LoggerCentral.
Ready to get started?
View registration requirements and additional program information below.
Due to clinical requirements, all CNA students must be fully vaccinated against COVID-19. Students who do not wish to vaccinate may apply for a religious or medical exemption.