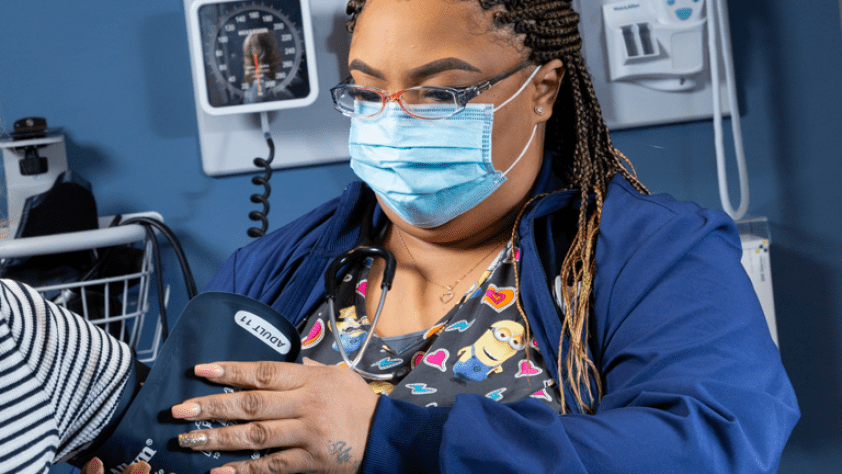 At a Glance
Train for a new career!
The medical assistant bridge program grants qualified certified nursing assistants the opportunity to enter the medical assistant field. The accelerated curriculum provides students the knowledge and skills needed to function in the role of a medical assistant. The students will learn how to perform administrative and clinical tasks to be successful in the health care setting. After successful completion of the medical assistant bridge program, the student will be eligible to register for the Certified Clinical Medical Assistant Exam and the National Certified Medical Assistant Exam.
Eligible candidates must:
Be at least 18 years of age.
Have a high school diploma or GED.
Be proficient in English.
Have hand-to-eye coordination and finger agility.
Possess basic computer skills.
Have 300 verifiable hours worked as a CNA within the last six months.
Must be in good standing with IDPH Healthcare Registry
Externship requirements:
Successfully pass background check and drug screening
Obtain immunizations
The Clinical Medical Assistant program prepares students for multiple roles and national certifications. As an entry-level clinical profession, this program is ideal for students in the allied health care field. The certifications students will be eligible to take following the completion of this program include:
Board: National Health Career Association (NHA)
Exam: Certified Clinical Medical Assistant (CCMA)Board: National Center for Competency Testing (NCCT)
Exam: National Certified Medical Assistant (NCMA)
Both exams are included in the program cost ($245 value).