Orientation helps new students set the course.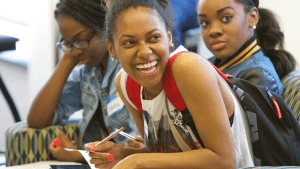 To help support your successful transition to college, New Student Orientation is an important step and required for first-time degree or certificate-seeking students.
The mission of New Student Orientation is to provide new students with personal, educational and social support as they transition and navigate the college's expectations, resources and environment.
Orientation has hands-on activities to help you reflect on your journey and articulate your goals. We want you to make informed choices, and get to know other students, LLCC staff and our campus. You'll learn about our academic support services that are designed to help you succeed in your classes. Orientation also teaches you about the technology you'll use inside and outside of the classroom to help you reach your goals.
New Student Orientation is 2.5 hours long and is designed for new students. Transfer and returning students are also encouraged to sign up and attend. Parents, family members and those supporting new students may attend the Welcome and Resource Tour section of the orientation (approximately 1.5 hours long).
New students are automatically enrolled in our online orientation so you can begin your journey with LLCC right away.
In-person orientation sessions are also offered at all LLCC locations. To attend an in-person session, call, text or visit the LLCC location in:
New student-athletes should call 217-786-2224 to meet with their assigned student success coach before orientation.
You will be connected with your success coach during orientation so you can schedule an appointment to meet with them to discuss your goals and academic plan. For the best experience, please send in transcripts from your high school and any college you've previously attended. For more information, please select your student status to view steps to enrollment.