Welcome to WEI!
Bring the grit. Reach the goal.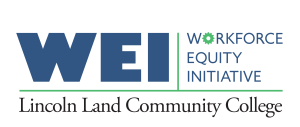 The Workforce Equity Initiative, funded through an Illinois Community College Board grant, aims to serve 150 low-income students, 75% of whom must be African American.
What we provide
WEI provides free, short-term education/training programs designed to help participants gain employment in high-wage and in-demand occupations. Students receive supports, including compensation to help cover basic costs while receiving the training.
Programs
Image

Workforce and trade
WEI student support services
As a WEI participant, you can receive:
Free tuition and fees
Books and materials
A stipend
Transportation assistance
Child care assistance
Waiver for prior unpaid fees owed to LLCC
Loanable laptop and Wi-Fi hotspots
Tutoring
Essential and employability skills training
Job placement assistance
Eligibility
In order to participate in the WEI program, you must:
Reside within the LLCC district
Be a U.S. citizen or permanent resident who meets certain eligibility requirements
Be low income (i.e. qualify for federal financial aid; receive SNAP benefits, Medicaid or TANF)
Meet requirements of selected WEI program
Steps to enroll in WEI
Fall 2023 applications: Pending program funding availability
Please note: The WEI application will gather potential WEI recipient information for the new upcoming grant cycle. This information will not be reviewed until grant funding has been secured for fall 2023.
Ready to apply? Complete the following:
Completed all the steps?