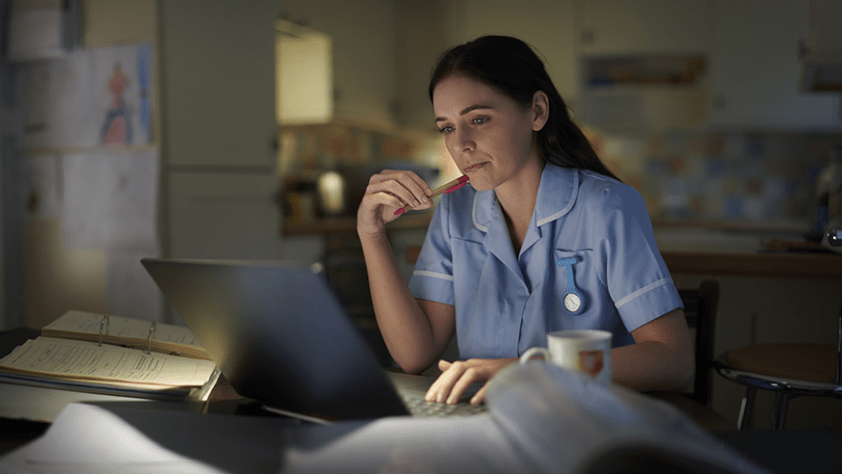 At a Glance
LLCC-Medical District is committed to helping health care professionals meet the increasing challenges of today's health care environment. Our continuing education goals are to promote and improve the health of society. The profession of nursing is only as advanced as its practitioners. The ever changing health care field demands they be enriched by the dissemination of new skills and knowledge through continuing education.
Lincoln Land Community College is an approved provider of continuing nursing education by the Ohio Nurses Association, an accredited approver by the American Nurses Credentialing Center's Commission on Accreditation. (OBN-001-91)  (OH-357, 2/1/2019)
LLCC-Medical District is approved by the Illinois Department of Financial and Professional Regulation to offer continuing education credit to nursing home administrators, registered social workers, physical therapists, occupational therapists, dietitians and nutritionists, and respiratory care practitioners. If you have any questions about certification please let us know.
LLCC-Medical District offers custom training solutions to meet your performance goals. We will train at a location convenient for you: your workplace, off-site or at our location. New health care continuing education classes are added throughout the year.
A Pill for Every Ill!
Barb Bancroft returning to Springfield
(total of 5 CEUs)
Tuesday, Oct. 4, 9 a.m. to 3:30 p.m.
Northfield Inn and Suites, 3280 Northfield Dr., Springfield, IL 62702
Registration information coming July 2022!
Barb will provide a unique overview of "all things pharm" taught in a  fascinating and informative way. This lecture is not your usual "run-of-the-mill" pharmacology update.
What it's NOT: List after list after list of drugs
What it IS: A potpourri of pharm topics for all fields of nursing.
How do we choose the "best route of administration" for various drugs? Is there a "better" statin or are they all the same? Is there a "best" SSRI for depression or all they all the same? Are all hypertensive drugs the same when it comes to preventing strokes? The "glutides" for Type 2 diabetes are terrific — is there one that is a game changer when it comes to weight loss? (HINT: yes.) The SGLT2 inhibitors are the latest "game changers" for heart failure! Who are they and what do you need to know about them? What are the upsides and downsides of PPIs? If you don't know about the wide range of monoclonal antibodies (MABs) used from preventing viral infections to improving the diagnosis of breast cancer to changing the lives of patients with autoimmune diseases then come hear Barb's banter on the MABs. What new drugs are used for autoimmune diseases? Are we really using a drug that was formerly used to prevent the growth of mold in sofas? (HINT: yes.) What do we now know about the pathophysiology of migraine headaches that has subsequently IMPROVED the prevention and treatment of acute migraines? Why do we use an ED drug for pulmonary arterial hypertension? Is it prime time for psilocybin (magic mushrooms) and major depressive disorder? How about ketamine and treatment-resistant depression?
Barb is coming back to LLCC, so join her on Oct. 4, 2022, for an entire day of pharm FUN!
About the presenter
Image
Barb Bancroft, R.N., M.S.N., P.N.P., is a widely acclaimed national speaker, noted for her humorous, entertaining and information-packed seminars. She has authored eight books to date including her latest, "Laughing My Aspirin Off." Many people can conduct health seminars or write books on health, but very few can make them both thoroughly informative and entertaining. Barb makes complex health topics easily understandable, appealing and hilarious. She has provided more than 2,400 educational and motivational seminars on clinical topics and health maintenance topics to health care professionals and corporations throughout the U.S. and Canada. Barb is currently the executive director and president of CPP Associates, Inc., a continuing education firm for corporations and health care professionals based in Chicago.
Check back for upcoming classes!