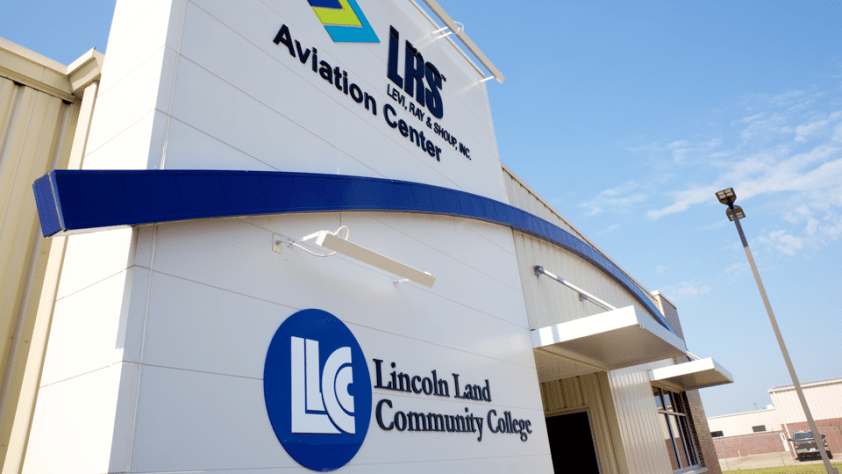 At a Glance
Aviation Mechanics • Airframe Technician • Powerplant Technician • Aviation Management
LLCC is home to the only aviation mechanics program in central Illinois.
You can prepare for an exciting and rewarding career in aviation mechanics in approximately 18 months! Airframe and powerplant (A&P) technicians maintain and troubleshoot the complex systems that an aircraft contains — turbine and piston engines, electrical systems, hydraulics, pneumatics, sheet metal, communication, navigation, cooling exhaust and more. They help keep the world moving and travelers safe.
Complete an aviation degree or certificate! View upcoming start times.
Start date: Jan. 4, 2023
End date: June 5, 2023
Time: Mon-Thu, 7:30 a.m.-3:30 p.m.
Spring 2023: Jan. 4-May 10; break May 11-21
Summer 2023: May 22-July 25; break July 26-Aug. 6
Fall 2023: Aug. 7-Dec. 14; break Dec. 15-Jan. 1
Spring 2024: Jan. 2-May 9; break May 10-19
Summer 2024: May 20-June 5
LLCC's Aviation Mechanics program prepares students to take the Federal Aviation Administration (FAA) certification exam for airframe and powerplant mechanics and, at the same time, work toward an associate in applied science degree. The program emphasizes hands-on experience with the repair and maintenance of modern engines and airframes.
The program covers 34 subject areas and includes 1,927.5 hours of instruction. Students can meet the requirements in as little as 10 months to receive the airframe certificate or the powerplant certificate; 18 months for both A&P. The associate in applied science degree usually requires an additional semester to complete.
Note: Students may elect to only take general and airframe, or general and powerplant sections. Providing they meet FAA requirements, they may only need to take one of the sections.
After students have met all of the FAA requirements, they take three written tests (with an approved test facility) and then test with an FAA trained designated mechanic examiner who will administer an oral and practical test and then issue the A&P certificate.
LLCC operates under FAR (Federal Aviation Regulations) Part 147, certifying the school as a training facility. The FAA regulation provides LLCC with the guidelines for developing the curriculum — the subjects, the level of instruction and the number of total hours that are required. Our instructors are required to be certified as airframe and powerplant technicians and have current work experience. The program teaches students the basic skills and fundamentals of aviation maintenance, so when completed, they meet the FAA requirements to test for an A&P certificate.