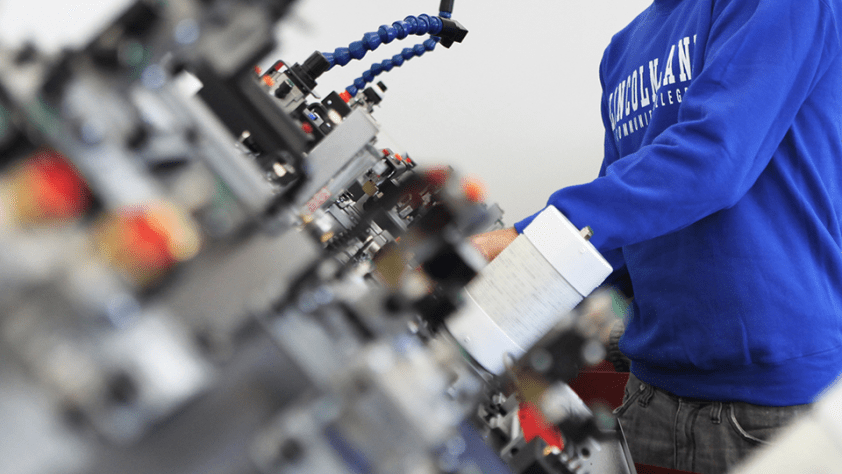 At a Glance
Maintenance and repair of commercial and industrial machinery
---
The manufacturing industry comprises hundreds of occupations. Machinery maintenance and repair remains an important manufacturing component due to the increased use of automated processes. Economic and demographic trends have produced a shortage of skilled technicians in manufacturing and industry-related technology threatening the development of new products, quality improvement processes and a sustained manufacturing sector. LLCC Industrial Technology programs offer training flexibility. Earn portable, stackable certificates which build upon each other and can lead to associate or bachelor's degrees. Then, choose to go to work, pursue additional certificates or continue working on a degree.
This program focuses on maintenance and repair of commercial or industrial machinery in buildings, plants or factory settings. Maintenance technologists are skilled in vibration analysis, electrical troubleshooting, drive system repair and hydraulic/pneumatic system troubleshooting and repair. General maintenance mechanics may troubleshoot and repair HVAC systems, electrical control systems and/or complete preventive maintenance on many types of machinery. This program incorporates basic welding skills.
This program focuses on the foundational understanding and effective utilization of safety regulations in general industry with emphasis on lock-out-tag-out and workplace systems operations. Topics include basic blueprint interpretation, including electrical wiring diagrams and symbols; electricity voltage, amperage, resistance and power; mechanical, pneumatic, and hydraulic power; industry safety practices; and the systematic approach to troubleshooting utilizing blueprints, schematics, documentation and logical thinking.