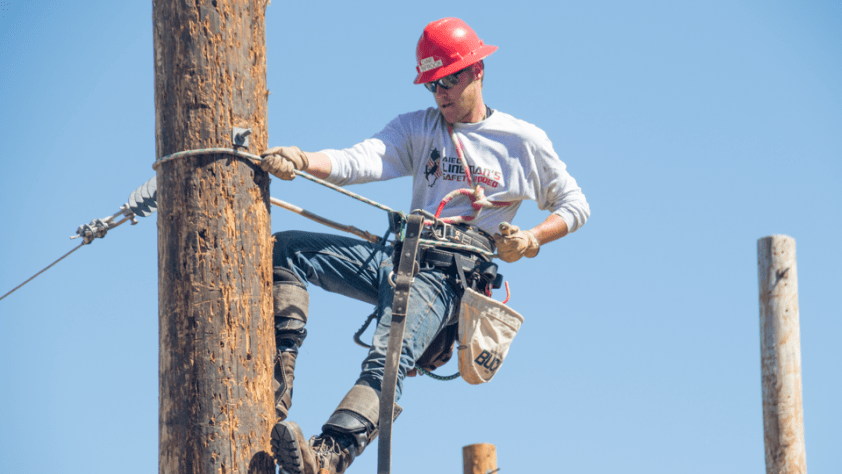 At a Glance
Storm heroes, maintaining and restoring power to communities.
Line workers are powering communities by maintaining and repairing distribution lines and equipment. If you are looking for a challenging and rewarding career that involves working in all types of weather conditions and risks, consider a career as an electrical lineman. Electrical linemen install or repair cables or wires used in electrical power or other distribution systems, which can include working on overhead power lines or underground electrical systems. LLCC's electrical distribution lineman program prepares students for a lineman apprenticeship with electrical cooperatives, investor-owned utilities, municipalities, cable companies and private contractors.
Degrees & Certs
LLCC offers the following programs to successfully equip you for a career as an electrical distribution lineman.
Students must complete the LLCC Truck Driver Training program to receive a commercial driver's license (CDL)-class A to meet program requirements. Students take the CDL test with the Illinois Secretary of State and must pass the Illinois Department of Transportation (IDOT) physical. Those with a current CDL-Class A can receive proficiency credit to meet the program's truck driver training requirement. For more information about LLCC Truck Driver Training, contact Curt Robinson, director, at 217-786-2565.
Cost
Electrical distribution lineman (EDL) classes have standard tuition rates. For fall 2023, spring 2024 and summer 2024, these classes have an in-district rate of $137 per credit hour. Classes with 1.5 credit hours will have a course fee of $384, classes with 2.0 credit hours will have a course fee of $512, classes with 3.0 credit hours will have a course fee of $768 and classes with 3.5 credit hours will have a course fee of $1,021.
The truck driver training program is $4,500, which is in addition to other fees for the program. The truck driver training program is eligible for financial aid (FAFSA) if taken as a requirement for the electrical distribution lineman program. Get more information on tuition and fees.
Tools and books sold separately. Tools are required for the first day of class.
Learn more about cost of attendance.
There are ways to get help paying for college. Learn more about paying for college.
Start/Info Session
Information sessions
Information sessions are required for students interested the lineman program. At the session, you will meet with college representatives from all portions of the program at one time to receive information and ask questions. We are currently taking registrations for the dates and times listed below.
Tuesday, Jan. 16, 2024, at 1 p.m.
Thursday, Feb. 15, 2024, at 10 a.m.
Tuesday, March 12, 2024, at 1 p.m.
Thursday, April 4, 2024, at 10 a.m.
Classes
Explore available electrical distribution lineman classes in LoggerCentral.
Ready to enroll?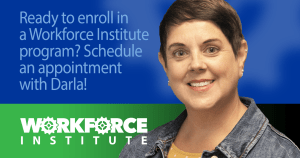 Schedule a meeting with Darla! Grab 45 minutes with us, and we will work with you to understand our programs, admission requirements and steps to enroll! These well-paying careers need trained workers now and in the future. Contact Darla Cochran, workforce enrollment specialist, at 217-786-2407 or Darla.Cochran@llcc.edu.
Note: After booking, you will receive an email and text confirmation. Please make sure to check your email spam/junk folders for the confirmation. Depending on your spam filter settings, your conformation may have been delivered there.
Questions and tours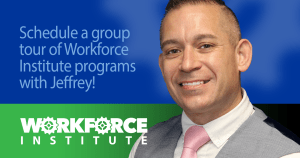 General questions about Workforce Institute programs? Looking to book a group tour or learn how to hire our graduates? Contact Jeffrey Martin, workforce recruitment and placement coordinator, at 217-786-2373 or Jeffrey.Martin@llcc.edu.