Choose the type of classes that fit your needs and schedule.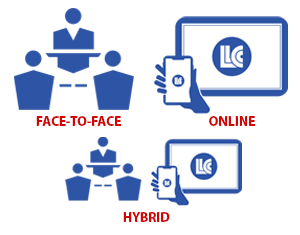 LLCC offers three class formats: face-to-face, online and hybrid. 
Traditional, face-to-face courses take place in a classroom on regular days and times.
Online courses allow students to learn entirely via the internet on their own schedules.
The hybrid option provides a combination of online and face-to-face learning.
View available:
Credit courses (for degrees and certificates — includes transfer courses and Workforce Institute courses) in LoggerCentral.
Short-term career training and continuing education programs offered at LLCC-Medical District, our convenient downtown Springfield location.
LLCC Adult Education courses, which provide adults in the areas of GED preparation, basic skills, English language skills, adult career pathways and literacy.
LLCC Community Education non-credit classes, workshops, youth programs and travel opportunities, as well as hands-on culinary classes and dinners.