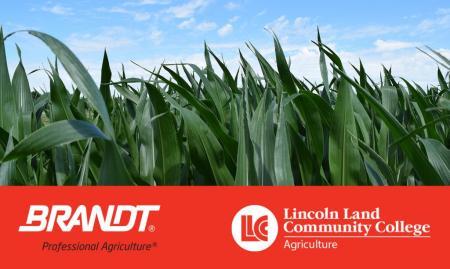 SPRINGFIELD — BRANDT, a leading agriculture retailer and manufacturer of agricultural specialty products, and the Lincoln Land Community College (LLCC) Agriculture Program have formed a working relationship for on-campus research and development into production agriculture practices. Both organizations share a commitment to the future of agriculture in Central Illinois. This initiative will fit nicely with BRANDT's extensive trials at the company's research farms in Pleasant Plains and Lexington, Ill.
BRANDT and LLCC will work together on the main campus' 45-acre "Land Lab," focusing on corn and soybean production best practices. In addition, BRANDT will collaborate on research efforts at the Kreher Farm in Blue Mound, Ill. Both locations will be working to gain production agriculture knowledge, prepare students to further their education or develop students to enter the workforce.
"We are extremely excited to work with LLCC to strengthen the future of agriculture. This is a win-win partnership," said Karl Barnhart, BRANDT EVP and chief marketing officer. "This is a great scenario for us to align ourselves with LLCC as they develop young leaders and industry professionals who might one day join BRANDT or certainly contribute to global ag."
BRANDT currently employs many LLCC alumni and Evelyn Brandt Thomas, co-founder of BRANDT, funds the Gordon R. Thomas Memorial Scholarship for enrolling agriculture students.
"We look forward to strengthening our relationship with BRANDT and only see positive outcomes in the future," said Bill Harmon, agriculture program director at LLCC. "To have two first-class agriculture organizations based in Springfield is a win for both BRANDT and LLCC, as well as the agriculture industry as a whole," added Harmon.
Plans are in place and work for the 2018 cropping season has already begun.
About the Lincoln Land Community College Agriculture Program
LLCC offers an associate in science degree in agriculture, designed for students planning to transfer to a four-year college or university to complete a bachelor's degree. For students preparing to enter directly into the workforce, LLCC provides two-year associate in applied science degree programs in agri-business management, horticulture and precision agronomy/fertilizer, as well as certificate programs in fertilizer, agricultural watershed management and landscape design/turf management. LLCC's agriculture program was recently named the beneficiary of an $18 million trust, and is poised for growth.
More information is available at www.llcc.edu/agriculture.
About BRANDT
A leading agricultural company, BRANDT consists of three divisions—Specialty Formulations, Retail Agronomy and Dealer Support—serving growers around the globe. Founded in 1953 by Glen Brandt and his sister Evelyn Brandt Thomas to help Illinois farmers adopt new and profitable technologies, the company has experienced aggressive growth under the leadership of President and CEO Rick Brandt. Innovation, technology and strong customer service are a few of the core beliefs that drive BRANDT today. BRANDT's focus is providing the products and services that give growers the best opportunity for maximum return while building a stronger, healthier and more abundant food supply.