Press contact: Lynn Whalen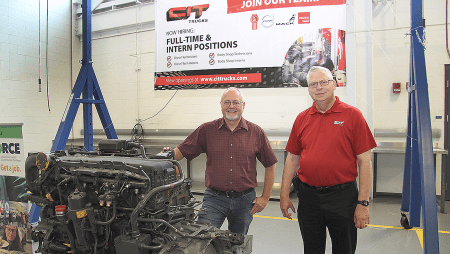 SPRINGFIELD — CIT Trucks, with 15 locations serving territories in Illinois, Missouri and Indiana, was recognized yesterday for providing a diesel engine and chassis to Lincoln Land Community College's new diesel technologies program.
 
The donation of the MX-13 Paccar engine, valued at $20,000, was arranged by CIT Trucks through the Kenworth Technical Schools Program. In addition, CIT Trucks is donating three truck chassis, also valued at $20,000 each, to be used as training tools.
 
Chris Harrison, director of technical recruiting for CIT Trucks, commented, "We do all we can to support and promote this industry. We're thrilled that LLCC is starting a new diesel technologies program and are eager to recruit their graduates. We're always looking for well-trained individuals who want to work, adapt and grow with our company." He said diesel technicians in this area can expect a starting salary of up to $65,000 per year with increases in pay as they learn new skills.  
 
"We're very appreciative of these donations, which will allow LLCC diesel students to train on the latest technology," said Jeff Gardner, LLCC diesel technologies program director. "Our students will also have access to Kenworth online service training programs. The combination of hands-on experiences, classroom instruction and manufacturer-based training programs will prepare students for employment in the heavy truck industry. CIT will also provide paid internship opportunities within their network of dealerships." 
 
LLCC's diesel technologies program is set to launch in fall of 2023 and offers a two-year associate in applied science degree. The program will prepare students for high-demand, high-wage careers as service technicians in agriculture, construction and highway truck and transportation industries. More information on the diesel technologies program is available by emailing Gardner or by calling 217-786-2239. 
 
CIT Trucks, LLC was founded and incorporated in 1975. The company is headquartered in Normal, Ill. and their consolidated enterprises employ over 700 people and represent Kenworth, Volvo, Mack, Isuzu and Autocar product lines. CIT Trucks dealerships offer new and used truck sales, an extensive parts inventory, truck service and maintenance, and state-of-the-art body repair. Additionally, the company owns subsidiaries Central Truck Leasing, a wholly-owned truck rental and leasing company, and Central Truck Finance, a wholly-owned financial services company.