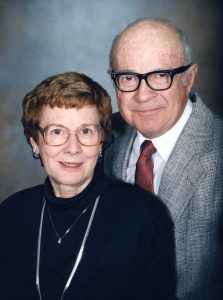 SPRINGFIELD — Officials of the Lincoln Land Community College Foundation today announced that the college's agriculture program is the beneficiary of a late farm couple's charitable trust.
"On behalf of current and future LLCC agriculture students, it gives me great pleasure to announce that the LLCC Foundation will be the recipient of annual earnings from the Kreher Farm Perpetual Charitable Trust, with total assets of $18 million," said Karen Sanders, executive director of the LLCC Foundation.
The gift will be used to transform and grow the LLCC agriculture program.
"This morning we celebrate the outstanding generosity of Irene and Charles Kreher and their belief in agriculture," said Bill Harmon, LLCC agronomy professor and ag program coordinator. "The Kreher's gift is beyond 'once in a lifetime,' it's in the realm of 'I can't believe this is really happening.'"
He told the crowd at the announcement ceremony, "The Kreher's desire was that agriculture be promoted in various ways, to the benefit of – first and foremost – students, along with farmers and the community as a whole. This support will enable us to meet the needs of our growing and diverse student population and provide relevant, up-to-date curriculum on the latest technology in state-of-the-art facilities and environments. These funds will not replace current support by the college … but rather 'grow' the agriculture program, increasing the number of students served, increasing local job opportunities filled with qualified LLCC grads, and improving agricultural literacy in our communities, ultimately designed to make LLCC a center of excellence in agriculture education."
Harmon said the trust also directs the LLCC ag program to implement an education program on the Kreher Farm. "We are honored to play a role in growing this program that brings full circle their shared fondness of agriculture and the land Charlie and Irene Kreher loved. Our mission is to have LLCC be the first choice for potential agriculture students, with a goal to double our enrollment by 2020. Additionally, we want to be the agriculture leader for businesses seeking new employees."
Don Wienhoff of Quorum Consulting, trustee for the charitable trust, shared more about the Krehers and their commitment to agriculture. "During the years of discussion with Charlie and Irene, talks of 'donations' always seemed to center around three things: local, kids and agriculture. This is how we ultimately arrived at LLCC being the perfect beneficiary. Charlie and Irene loved farm life, raising corn, soybeans and Angus cattle. After Charlie's tragic death in 2009, Irene began to explore ways to memorialize his legacy. She was familiar with LLCC's excellent agriculture program and was a strong believer in education. After visits to campus and extensive talks with Bill Harmon, Karen Sanders and President Charlotte Warren, she decided LLCC was where she wanted the Kreher legacy to reside. Irene passed away a little over a year ago, and I know would be extremely happy and proud to know this gift will have such a positive and long lasting impact on generations of ag students and the ag community as a whole."
"LLCC has begun the process of transforming the agriculture program," said Harmon, who now is in charge of day-to-day management, strategic planning and student advising in addition to teaching. "We are in the process of hiring a full-time program specialist, who will help recruit potential students, as well as expand our partnerships with local ag related community businesses and agencies to identify opportunities for employment. We will continue to explore the viability for new program offerings in ag, as well as growing our nationally recognized livestock judging team, headed by Professor Craig Beckmier. Students will be conducting research projects under the guidance of Professor Rich Teeter as part of our overall plans. We have initiated discussions on offering LLCC agriculture classes to nearby high schools … (and) to help promote the program, vehicles such as the car outside emblazoned with 'LLCC Agriculture' will transport students and staff to events, as well as serving as rolling billboards."
Harmon added, "We will be expanding the student experience by incorporating the latest technologies such as a combine simulator so students can practice before operating actual machinery to improve skills, safety and self-confidence, and the latest drones so that we are using the same type used in industry for precision agriculture." He said students will also benefit directly from the Kreher gift through increased scholarship offerings, and the LLCC Agriculture Club, the largest student group on campus, will expand its participation in statewide and national contests.
Harmon noted the timeliness of the gift and expansion of the ag program. He cited a Purdue University report that predicts that the U.S. will need 57,900 new workers in agriculture, natural resources and environmental sciences, but that U.S. colleges and universities will only produce 35,400 qualified graduates to fill them. He said this national trend holds true in central Illinois as well, providing many employment opportunities for graduates.
Dr. Charlotte Warren, president of LLCC, expressed the college's gratitude and noted its agricultural roots. "We are ever grateful for the generosity of community friends who believe that LLCC and our students are worthy of their investment. Agriculture is deep-rooted at LLCC. We were founded by a group of farmers, among others, and agriculture was one of the original programs we offered. I am thrilled to have the opportunity to recognize a gift that will continue that storied history for the agriculture program and that will impact the lives of so many people."
LLCC ag student and Livestock Judging Team member Dominic Ruppert of Witt, Ill., who assists on the six-generation family farm raising cattle and showing prize winning pigs, said he was inspired by his LLCC professors to pursue a career in ag education. "LLCC provides so many opportunities to build a strong foundation for a young person's future … I am ecstatic that our LLCC ag program is receiving an amazing gift. I know that it could not be put into better hands. While the ag program here is already great, I believe that with this generous contribution, LLCC's ag department will be seen as a premier ag program. To the donors and those who made this gift happen: thank you for making an impact. Thank you for being a champion of education. Thank you for believing in us!"
Also recognized at today's ceremony were LLCC Board of Trustees Chair Dennis Shackelford, Vice Chair Wayne Rosenthal; LLCC Foundation Board Chair Tim Schroeder and Vice Chair Todd Wise; Bob Stuart, legal counsel with Brown, Hay and Stephens; and Larry Hardy, investment advisor with Morgan Stanley.
LLCC's agriculture program offers an associate in science degree in agriculture, designed for students planning to transfer to a four-year college or university to complete a bachelor's degree. For students preparing to enter directly into the workforce, LLCC provides two-year associate in applied science degree programs in agri-business management, horticulture and precision agronomy/fertilizer, as well as certificate programs in fertilizer, agricultural watershed management and landscape design/turf management.
More information is available at www.llcc.edu/agriculture.