Press contact: Kyla Kruse
SPRINGFIELD — Lincoln Land Community College announced the 2023 royals and honored its founding athletic director during homecoming games on Wednesday, Jan. 25, capping off three days of activities.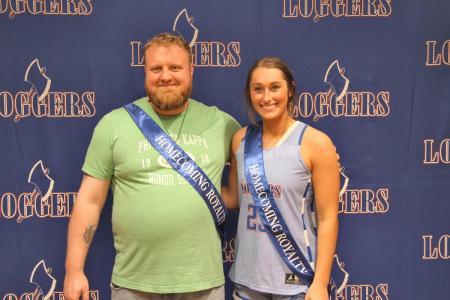 This year's LLCC Homecoming Royals Josh Hughes and Marley Smith were announced during halftime of the women's basketball game. Hughes is a history major pursuing a career in secondary education. He is a member of Phi Theta Kappa academic honors society and a peer tutor and student worker in the LLCC Center for Academic Success. Marley Smith is an education major and member of the women's basketball team. She plans on pursuing a career in administration. 
Students were nominated for homecoming royalty by LLCC faculty, staff and students based on their involvement and contributions to the college, then selected by a vote of the student body.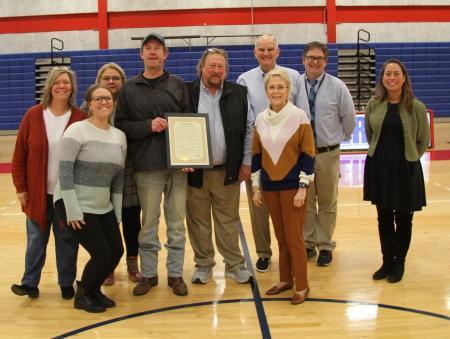 Also last night, Springfield Deputy Mayor Kathleen Acorn read a proclamation honoring Richard E. "Dick" Dhabalt, the college's founding athletic director, who passed away in September of last year. The proclamation declaring Jan. 25, 2023, as "Dick Dhabalt Day" in Springfield was accepted by Mr. Dhabalt's sons Dan and Rick and several other family members. 
As a founding faculty member of LLCC, Dick Dhabalt's service to the college included 20 years as head men's basketball coach and athletic director and 25 years as instructor of physical education and mathematics. He was selected by the NJCAA to serve as the Region IV assistant director and then director of Region XXIV. The NJCAA inducted him into the Region XXIV Hall of Fame in 1991. In 2015, Dick was inducted into the Springfield Sports Hall of Fame and the next year, LLCC inaugurated the Dick Dhabalt Athlete of the Year awards.
The proclamation read in part that "Dick was a faithful Logger and a gifted leader by example who was known to be fair, honest, understanding, dedicated, patient and selfless. We are grateful to Dick and his family for the sacrifices, dedication and commitment he gave to the students and staff at LLCC."