SPRINGFIELD — Officials of Lincoln Land Community College (LLCC) and Memorial Health System (MHS) today announced a nursing education partnership to address the regional nursing shortage. With support from MHS, LLCC will admit 90 additional students per year to the college's associate degree nursing program, for a total of 215 new nursing students annually.
Image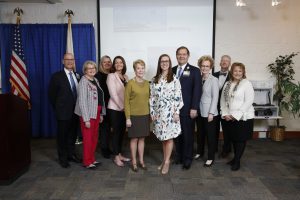 MHS will provide approximately $6.1 million in funding to allow LLCC to renovate the west wing of Montgomery Hall on the LLCC campus for a new nursing center, purchase state-of-the-art equipment and hire additional faculty and staff to recruit, advise and teach nursing students.
"This partnership between Lincoln Land Community College and Memorial Health System aligns with both of our missions: to improve the lives and health of the people in the communities we serve, and to be responsive to community needs," said Charlotte Warren, Ph.D., president of LLCC.
"This region, along with all of Illinois, faces a severe shortage of nurses," she continued. "With this support, LLCC will increase the number of new students accepted into our nursing program and produce more registered nurses to serve the health care facilities of our communities."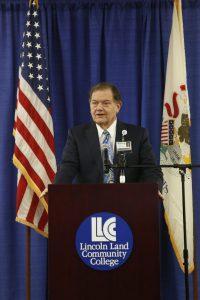 "LLCC has been supplying quality nurses to Memorial Health System since the early 1970s," said Ed Curtis, MHS president andCEO. "MHS has provided these nurses with fulfilling careers in an excellent work environment, with numerous opportunities for professional advancement. Multiple Magnet and Pathway designations at MHS hospitals provide local nurse graduates a practice environment that has committed to raising the bar of nursing excellence, again and again. We are excited to now expand our partnership with LLCC to address the regional nursing shortage and meet the needs of the patients and communities we serve."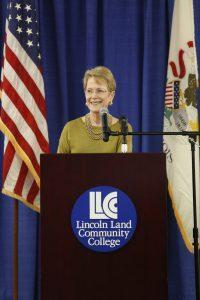 Dr. Warren noted that the quality of the LLCC Nursing program is outstanding, with completion and national certification pass rates far above national averages. "The demand from students wishing to enter our excellent, affordable nursing program has grown steadily since its inception."
The renovation of approximately 12,000 square feet of Montgomery Hall will provide the physical space needed to enhance LLCC's nursing skills and simulation labs, expand classrooms and accommodate increased incoming class sizes. Initial phases of design and planning are underway with construction to follow and anticipated occupancy in fall 2021.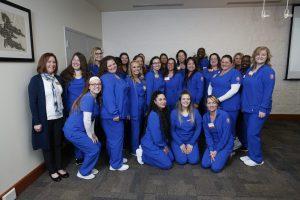 Dr. Warren and Mr. Curtis, who both started their careers as nurses, encouraged all students to consider a career in health care and to continue to make central Illinois their home. "A vast majority of LLCC nursing graduates remain in the district to work and live," said Mr. Curtis. "We want to continue to keep these nursing graduates in the area by providing the tools, support and opportunities to learn and grow, and enjoy long, rewarding professions."
He also noted the timeliness of the announcement, in that 2020 has been designated as the Year of the Nurse by the World Health Organization.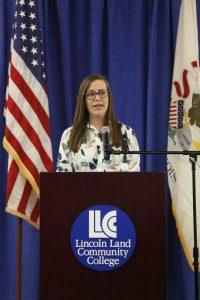 LLCC Nursing student Haley Caise commented, "I am so excited about this announcement. This is an amazing collaboration of two organizations that are near to my heart. Lincoln Land Community College offers an incredible education and value. Now, thanks to Memorial Health System's support, more aspiring LLCC nursing students will have additional resources available to them to help them reach their dreams."
Members of the LLCC Board of Trustees, MHS Board of Directors, LLCC Foundation Board of Directors and Memorial Medical Center Foundation Board of Directors; LLCC nursing students, faculty and staff were among those attending today's press conference. 
LLCC's associate degree nursing (ADN) program provides training and clinical experience for a career as a registered professional nurse (RN). Students interested in enrolling in the LLCC ADN program can learn more at www.llcc.edu/associate-degree-nursing or by calling 217-786-2445.
LLCC also offers programs in practical nursing (LPN), LPN to RN transition, and nurse assistant (CNA). Other LLCC health professions programs include occupational therapy assistant, radiography, medical coding, surgical technology, respiratory care, neurodiagnostic technology, emergency services, fire science and exercise/sports science. More information is available at www.llcc.edu/health-professions.