Press contact: Lynn Whalen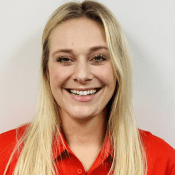 SPRINGFIELD — Lincoln Land Community College Head Volleyball Coach Hannah Werth has been named the college's first sports information specialist.
In addition to her coaching duties, she will handle sports information, expand social media, create digital media, assist with the athletics website and other communication regarding LLCC's seven athletics teams. 
Werth began at LLCC as a volunteer assistant with the volleyball team in September 2021 under Coach Jim Dietz and Interim Head Coach Kaylee Beekman. Following Dietz's retirement, Werth was promoted to head coach in February 2022. The Loggers reached the championship game of the NJCAA DII Central A District Tournament and ended their winning season with a 32-18 record. 
"I am super excited to take on this new role," says Werth. "Being able to assist in broadening our span of followers, regarding LLCC Athletics and the college, is truly an honor. I love this program and feel our audience will be able to sense that passion through the content we are creating together."
A graduate of Chatham Glenwood High School, Werth then graduated from the University of Nebraska where she majored in communication. Her knowledge in digital and social media was established from running her personal business, The Hannah Werth Volleyball Academy, for eight years. During this experience, Werth was able to construct positive and quality marketing trends while creating content to establish a unique brand.
"We have already seen a huge growth in social media followers since Hannah has been involved," said Ron Riggle, LLCC athletics director and head baseball coach. "She's really good at what she does and will continue to generate excitement and enthusiasm for the Loggers. That's the first step in getting more people out to our games to see the level of play and competition we offer."
LLCC athletic teams include men's and women's basketball, men's baseball, women's softball, women's soccer, women's volleyball and coed esports. More information is available at lincolnlandloggers.com.