Image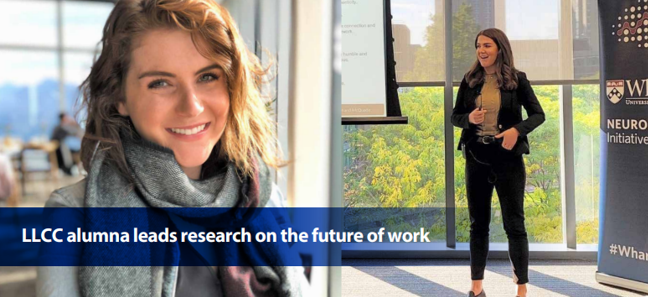 In the 12 years since Natalie Richardson graduated from LLCC, she's become a leader in business consulting and is now the director of groundbreaking research at a global business and technology company. 
Her research seeks to define the future of work post-COVID and bring humanness to the forefront of business through science. 
Natalie, a native of Cantrall, Ill. and current resident of Denver, Colo., leads HabLab, a laboratory researching habits and habitats surrounding the future of work at Slalom Consulting. She also leads The Slalom 300, a group of 350+ fellow employees participating in a one-year commitment to learn about the future of work through various experiments. 
One experiment is in partnership with the Wharton Neuroscience Initiative at The Wharton School of the University of Pennsylvania and includes employees wearing electroencephalography (EEG) headsets to monitor brain activity. The research points to the importance of connectiveness among employees, especially those who work from home, along with building a culture of trust and empowerment where everyone feels "seen and heard." In a recently published article, Natalie outlined results showing that dedicating one hour per week to small group connection is key to elevating the employee experience. She says giving employees "permission to pause" makes them happier, more engaged and productive in the short and long term. 
Natalie found her passion in the field of organizational effectiveness, specializing in improving efficiency and business success through maximizing employee engagement and change readiness. Prior to Slalom, she worked as a change management and organizational effectiveness consultant at several organizations. "I think that the organizations that will be thriving in 20 years are the ones that have invested in wellness for their employees, and in employee engagement," says Natalie. "An important organizational tenet is having resources for people when it comes to being well."
At LLCC, Natalie honed her leadership skills as student trustee on the LLCC Board of Trustees and was honored as the student trustee of the year statewide. She experienced her first airplane trip with the college president and several trustees, travelling to Japan with the Sister Cities organization. She also participated in a study abroad trip to Belize, was a member of Phi Theta Kappa honor society and the college's homecoming queen.
"LLCC allowed me to grow my confidence, have new and diverse experiences, learn my strengths and weaknesses and propelled me into a meaningful career I love," says Natalie. "Without a doubt, I am who I am today because of LLCC's excellent courses, phenomenal professors and staff, extracurricular activities and leadership opportunities." 
She went on to earn a B.S. in organizational and leadership communication from Illinois State University, followed by an M.Ed. in leadership and organizational performance and higher education administration from Vanderbilt University. 
"When looking back on my career, I can clearly point to my time at LLCC being the pivotal point where I gained confidence as a public speaker, as a leader and as an advocate for others on a large scale. I am so proud of the incredible impact the college makes in the lives of so many and for the lifelong friendships I formed there. I am forever grateful to my LLCC family for believing in and investing in me." 
She is passionate about doing the same for others by mentoring young professionals and recently established a scholarship with the LLCC Foundation. "Forever one of my greatest joys is starting The Natalie Richardson Scholarship to try to help students reach for and realize their unique goals and ambitions." 
Natalie is also a proponent of spending time in nature to promote mental and physical well-being and is pursuing a goal of visiting all of the U.S. national parks.
---
Story published in the LLCC FORWARD magazine, April 2023.