Image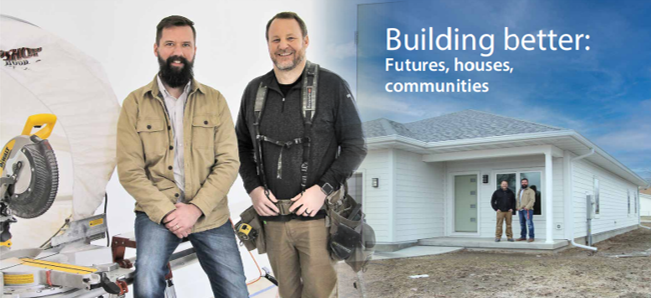 LLCC Construction Faculty Chris Edmonds and Matt Blomquist are building great futures for students in central Illinois through hands-on training in real world situations — including building a house in Taylorville (above right). 
Students in Taylorville High School's building trades class, in which students also earn college credit as part of an LLCC dual credit program, and LLCC-Taylorville construction students have been working on the house since October 2021. They emphasize building better by focusing on the performance of the house, such as energy efficiency and proper filtration for more comfortable and healthier homes. 
Edmonds is the program director of construction trades at LLCC, and Blomquist is an adjunct and dual credit instructor for the college and a teacher at THS. If you ask them how long they've been interested in construction, they'll tell you, "Always." 
"As a little kid, I was fascinated by tall buildings and how they went together," says Edmonds. "I dabbled in cars and did construction work on weekends and at night. I went to LLCC and then transferred to Illinois State University, where I decided to go into teaching." Edmonds has 18 years of experience teaching in high schools and has been at LLCC since 2019. 
"My dad got me interested in woodworking. I thought of it as a hobby, but it turned into a career path," says Blomquist, who has worked in construction, co-owned a construction business and taught trades. Blomquist was recognized with a national teaching award last fall — the 2022 Harbor Freight Tools for Schools Prize for Teaching Excellence. 
They are sharing their joy of building and their experience to help future generations.
"We make things fun and active," says Blomquist. "They learn by doing, and we teach skills to make them employable in any job." 
"I encourage students to try things and not be afraid. You learn more from fixing and diagnosing than getting it right the first time. It's important to problem solve," adds Edmonds. 
"Central Illinois has a strong commercial construction presence, and there is always work with hospitals, schools, government and roadwork," says Blomquist. 
"Looking at this fall, we'll be transitioning to more training on the commercial side and construction management classes," explains Edmonds. "Construction is wide open. Whatever you want to do, there is an opportunity."
---
Story published in the LLCC FORWARD magazine, April 2023.
www.llcc.edu/construction