Staff spotlight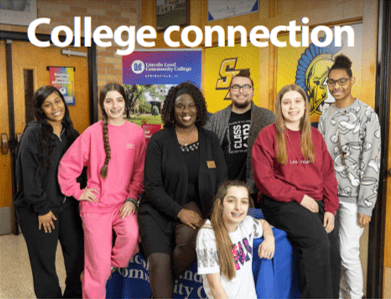 Kim Wilson, LLCC recruitment specialist, can be found at Springfield District 186 high schools on Tuesdays, Wednesdays and Thursdays each week, raising student awareness about career opportunities and helping them prepare for college. 
"It was really a highlight for me when the district invited me to their Decision Days," she says. "It's exciting to see the students on a regular basis to talk about careers and college and see them take their next steps. 
"If you're frustrated in high school, I get it. I had struggles too and can relate. No one told me I had to go to college. I figured things out on my own. I knew I had to keep going and do something." 
Now she helps others navigate the process. "I'll connect them with whatever resources they need to make the transition to college as smooth as possible," she says. 
Wilson assists students each step of the way, from application to helping them with resources for financial aid and scholarships. She says, "When they're looking at options, it's important to be aware of cost, and LLCC has opportunities for free education like the Workforce Equity Initiative and PATH program." 
Many students are undecided when it comes to picking a major. "I was undecided as well," she explains. "I started at a community college and took classes until I found one I really loved, which became my major. 
"Every week provides an opportunity to feature different programs, and I let them know we also have a lot of different clubs that students can be a part of at LLCC." 
Wilson is an advisor of LLCC's Black Student Union. BSU is a recent recipient of one of the college's Innovation in Diversity and Inclusion Grants. The project is "Hip Hop and Higher Education," in which they will establish a series of activities to enhance cultural and academic inclusion among Black students. "I want to let others know that they can come and be a part of the events going on and our community we have at the college," says Wilson. 
"The greatest joy is when I see that students have taken my advice and have a smooth transition to college, get financial aid and scholarships, and register early to get the classes they want and a great schedule – to see them experiencing college success."
---
Story published in the LLCC FORWARD magazine, April 2023.