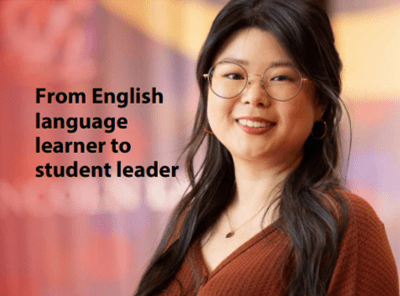 Yuji Lee arrived in the U.S. from South Korea three years ago knowing minimal English. With the help of LLCC's English as a Second Language (ESL) program and other supports on campus, she has overcome the language barrier and other challenges to become a student leader. 
As president of the LLCC Student Government Association, it is her mission to include more students in activities and assist them with their own challenges. 
"When I moved here, my English was bad so I joined the ESL program," says Lee. "It was really hard learning English during COVID, with all of the classes online. English was my biggest challenge, but I wanted to start my academic degree as soon as possible. I was introduced to the TRIO student support program, I explained my situation, and they've been an incredible help. I decided to try my best and start with a few classes at a time, with the goal of an associate degree in computer science and to transfer to a four-year college."  
As her English improved, she decided to get more involved on campus. "After I felt stable in my classes, I wanted to meet more students, so I ran for SGA president. I saw a lot of students, such as workforce and nursing students, whose classes are on the other side of campus from the Commons area where most activities are held. So I worked to have special events just for them in their buildings during the day and evening when they take classes. We've had chili and sandwich nights, handed out SGA tumblers and let them know about student clubs and activities. It's going really well!" 
"I'm always so amazed at her willingness to challenge herself," says Sarah Scheufele, retention specialist in the TRIO program, where Yuji is a student worker. "Since she started at LLCC, she has done things that push her out of her comfort zone. She's worked hard to plan activities for our campus community and talked with other students to understand what their concerns are."
Math Professor Peter Embalabala, a native of Kenya, related to Yuji's initial language challenges and says, "Yuji came to the U.S. with very little background in the English language but has bravely tackled that barrier with tablet in hand, learning the language at a faster pace than most ever could. She is determined to conquer not only the complexities of our language, but of American culture and customs as well.  
"The first time she came to my office, she told me that she was struggling with English and had a list of mathematical terms for me to explain. When I worked out some problems to demonstrate the meaning of those terms, Yuji quickly comprehended the concepts, which she consistently demonstrated by obtaining perfect or near perfect scores on her math exams.
"Having faced hurdles herself, Yuji has empathy for students whose paths to academic success are strewn with challenges. She truly is an inspiration to many, giving them the courage and tenacity to persevere in spite of any obstacle that dares to stand in the way." 
Yuji says a 30-minute lecture may take her two hours to fully understand, as she uses a dictionary to look up unfamiliar words. "It takes more time, but I'm using as many resources at LLCC as I can. The staff and professors, they are always willing to help. I explain my situation and they tell me, you're fine, you can do this and we'll help you!" 
TRIO Director Anne Armbruster says, "Yuji is so impressive! She is such a welcoming presence in TRIO and at campus events. She goes out of her way to welcome students to our office and make sure they get the help they need." 
Yuji tells students to find resources on campus that fit them best including the Center for Academic Success, success coaches and the career center. She tells students, "Build your support system. Every day is a challenge to me so I can relate. When you want to give up, keep going!"
---
Story published in the LLCC FORWARD magazine, April 2023.