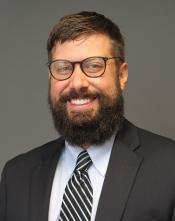 The world has changed, and the pandemic probably accelerated demographic and cultural changes that many anticipated would happen eventually. Baby Boomers were always going to retire at some point, and the demographic shift often referred to as the "gray tsunami" was always on the horizon, it just might have arrived a little early. A second demographic challenge that our employers face is population loss. Lincoln Land Community College serves all or part of 15 counties, and those counties combined to lose over 25,000 people between the 2010 and 2020 census.  
The intent of this is not to bring pessimism, it is simply to "confront the most brutal facts of [our] current reality," a concept made popular by Admiral James Stockdale and writer Jim Collins (no relation). We must confront the fact that our communities are facing two different demographic challenges that are impacting our region's economic development efforts. 
While we have very little ability to change the population size and percentage of working age populations, we can better collaborate on workforce development initiatives to enhance our students' career preparation and give our employers the best chance to recruit our students. To do this, the college and our employers need to collaborate better than we ever have and more than we previously thought possible. While collaboration is an evolving and continual process, let's explore three things that we can accomplish quickly to connect our students to our area's employers. 
Employers in the Classroom:  We need employers better engaging with students in our classrooms to help them learn while educating students on how their organization is an employment opportunity. If you are interested in attending a class to talk about your organization and industry field, you can contact me. Additionally, the college is consistently looking for adjunct instructors. Employers with adjunct instructors will have the best opportunity help build the future workforce and to market and attract new workers. If your organization is willing to work with your employees on adjunct instructor roles, you will have a strategic advantage on recruiting new employees.

Job Shadowing and Workplace Tours: Let's work together to create opportunities for students to visit the workplace. Job shadowing opportunities allow a student to explore their career of interest by observing an experienced employee performing their typical work duties. Some organizations might call this a "ride along program" where a student literally will ride along with someone for a part or whole day to obtain a more intimate knowledge of the career they are studying for. This also allows the organization to help sell itself as an employer.

Workplace tours are like job shadowing experiences although typically are for a larger gathering of students such as an entire class. This still allows students to gain additional insight into the work environment while giving companies the opportunity to market themselves to potential employees.

Internships: Of course, most employers are familiar with internships, and this is a tremendous opportunity for students to gain an immersive learning experience while giving an employer the best opportunity to recruit the student to stay on for full-time employment. LLCC even has a program that allows students to utilize an internship to earn college credit as part of their program. I participated in a program like this at The Greater Springfield Chamber of Commerce, and it is the main reason I remained in Springfield after college. 
There are more ways LLCC and employers need to work together to enhance our community's talent pipeline and fight back against the demographic challenges facing our region. We're not going to solve it with one essay, but let's start by creating more opportunities for our students to become your future workforce.  
Josh Collins can be reached by email at josh.collins@llcc.edu or by phone at 217-786-2346.