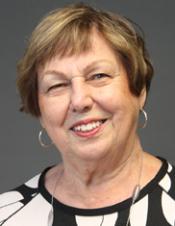 I don't know about you, but my favorite months are May, June, and July because the weather is finally sunny and warm enough to get outside to work in the garden or go golfing or swimming. Writing this made me think about the Year Without a Summer, 1816. Can you imagine going a whole summer without any sunshine or warm weather? Illinois wasn't affected as much as the East Coast, but it was not a fun summer anywhere. So far there's no sign of that happening this year, which leads me to one of my favorite topics: the Academy of Lifelong Learning (ALL) at Lincoln Land Community College (LLCC). It's time to get the word out.
Whether you are still working, have recently retired or have been retired a long time and find you need to do something different with your life, I have a solution for you, but only if you are 50 years or older. You have the opportunity to join ALL, a group of young minds who are focused on education, physical activities and fun.
ALL begins taking memberships for the 2022-23 year on May 1, although the membership year begins July 1, which gives you a bonus two months of membership. I can guarantee the activities never stop; in fact, this year, because of the easing of COVID limitations, they have picked up.
Last summer we added a Summer Fun Committee and started what we called Pop Up activities, which are last minute (a week) notices of a social activity. They were such a hit that they became all-year-round activities. Plans for this summer already include a bird identification walk at Adams Wildlife Sanctuary, a hike at Lincoln Memorial Gardens, an ice cream social at the Carillon in Washington Park, an outdoor event at LLCC, and the committee hasn't even met to brainstorm.The ideas just zoom out of their heads. We discovered ALL members like to socialize.
But it's not all about being sociable and having fun, it's about visiting new places and learning new things. We have a group that visits unusual places in Springfield and one that wanders around Illinois and nearby states. It's amazing what interesting things are nearby and how much you can learn by getting out of the classroom and on to the road.
Some of our programs lend themselves to hybrid learning where you can go to the Trutter Center at LLCC to hear a speaker or stay at home and experience the event via Zoom. How did we ever manage before Zoom? We can engage with speakers from anywhere and don't have to depend on our local people all of the time. We have everything from history hunters to budding authors to discussions on books and pertinent topics.
Perhaps you had a chance to hear about our successful series of programs on climate change in Illinois which will be followed with another series on the arts. We will have a sampling of a variety of dance and other art forms.
On May 18, ALL will have an information booth at the Central Illinois Senior Celebration in the Orr Building at the Illinois State Fairgrounds. If you're out and about, stop by and see us; we would love to chat.
Not sure yet if you want to join? Come for a visit to any activity and check us out. I think you'll want to stay. For more information, visit the ALL website or call 217-786-2432.