Press contact: Lynn Whalen
SPRINGFIELD — The Alpha Epsilon Kappa chapter of Phi Theta Kappa Honor Society at Lincoln Land Community College held its fall induction ceremony Nov. 7 in the Student Union. The event formally recognized the induction of 16 new chapter members with a ceremony and reception attended by family and friends of the inductees and several representatives from LLCC administration.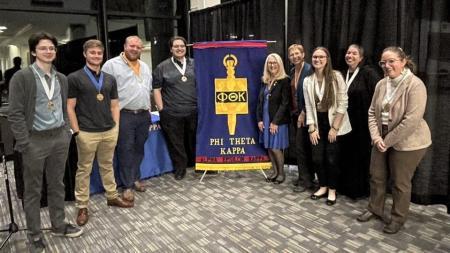 The following chapter officers were installed during the ceremony: 
Joshua Hughes, Springfield, President
AJ Colletti, Springfield, Vice President for Scholarship 
Joey Gallo, Jacksonville, Vice President for Service 
Caitlin Little, Virden, Vice President for Fellowship 
Jesse Dees, Sherman, Secretary
Luke Adams, Athens, Treasurer  
Dee Goings, Jacksonville, Public Relations Officer
Phi Theta Kappa is an international honor society recognizing academic excellence in two-year college students. Its goals include promoting scholarship, leadership, fellowship and service among members. View more information online or by contacting chapter advisor Dr. Gillian Bauer.